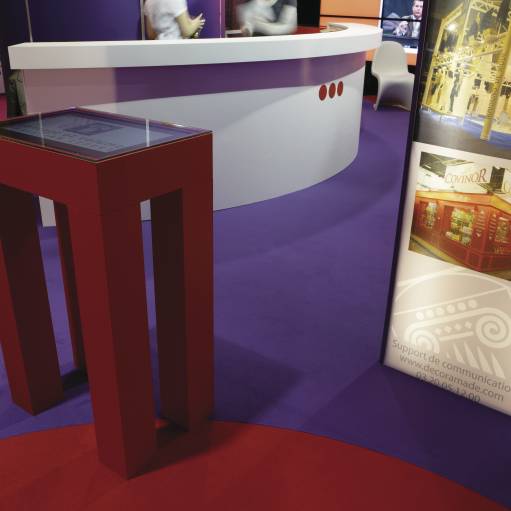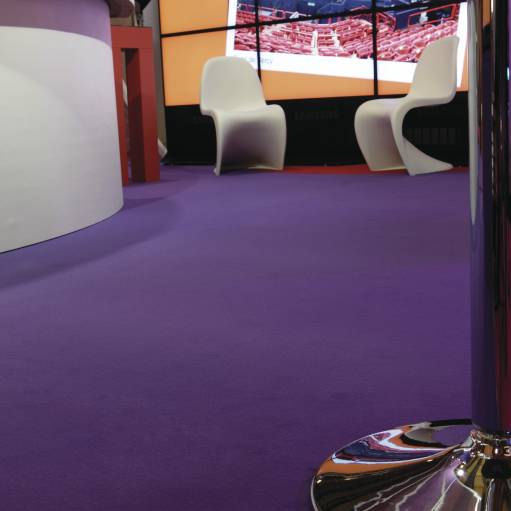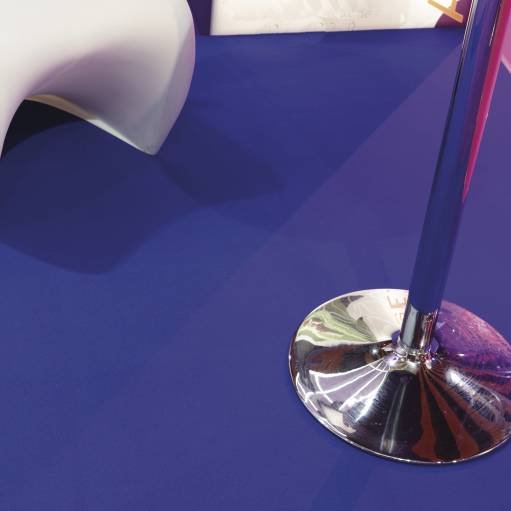 An authentic carpet
Quick is a plain and classic velvet carpet that is easy to lay. This product's authenticity stems from its wide range of colours. Quick is available in 30 colours, ranging from a myriad of blues - navy, peacock or royal - to a gradient of softer hues, made of suede, small tiles or even Malabar patterns. In practice, Quick is a great carpet for trade shows, used for covering the stand's floor.
This tufted broadloom is delivered by default with a foam backing and cannot be sold by weight. Quick is available in 4 M, weighs 500 g and is made of 100% polyamide.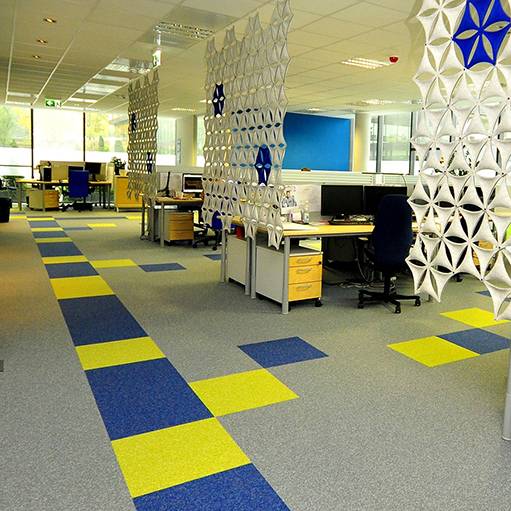 Light and reflected light
Did you know? Reflected light is an indicator of visual comfort.
The stronger the sunlight, the more reflected light there is.
A pale office carpet will make your space lighter, but it will need more care.
Visual comfort: choose your carpet tiles and strips' colour to suit the amount of light in your workplace.
1 Format pour mixer
1 Format pour mixer
Broadloom


Action back


Quick DD
Signposting: let the carpet be your guide
Different carpet types (broadloom, tiles and strips) allow you to use your floor to orient your employees and visitors.
You can customise your signposting using Balsan's creative app (for lobbies, landings, the foot of staircases and so on).
Use colour to help guide people with visual impairments. For example, use more intense colours close to staircases or obstacles.
We can create your own health and safety-friendly signposting for staircases, corridors or any other area.
Quality, affordability, well-being!
Even if you have a limited budget for your office flooring, your company deserves Balsan's expertise and carpets that are made in France for the right price!
Think about the energy savings: carpets retain up to 12% more heat than hard floorings.
Perfect in lobbies, open-plan offices and corridors, carpet tiles are first and foremost an investment in your colleagues' well-being.
Technical details
Features
Structure
Tufted carpet, cut pile
Total weight (g/m²) - NF ISO 8543
1685 g/m²
Tightening - NF ISO 1763
49
Antistatic velvet
2kV
Thermal resistance
< 0,15 m² C°/W


Customisation
From an idea to completion in a single step
Choose Balsan's personalisation option and carpet your space a thoroughly different way.

Collections
Because there is a story behind every product, Balsan invites you to explore the collections.