As with wall-to-wall textile flooring, rugs offer unparalleled visual, tactile and acoustic comfort. Some of French manufacturer Balsan's designer carpets are available as rugs – an aesthetic complement to hard flooring.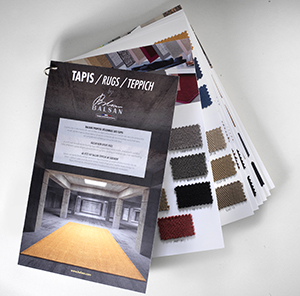 WHAT ARE THE ADVANTAGES OF RUGS?
DESIGNING YOUR UNIQUE RUG (no minimum m2)
Balsan's FINITION tool helps you design your piece, from structure, to finish, to colours.
STAGE 1: Browse BALSAN's broadloom carpeting and choose a structure and colour.
STAGE 2: Choose a finish from the following 5: (overlock, rembordier [rolled edge], cotton braid, cotton stripe or simili leather stripe).

STAGE 3: Choose a colour of finish.
STAGE 4: Add a non-slip backing.
STAGE 5: Obtain your unique and exclusive rug.
Contact BALSAN's sales team to get started on creating your own unique and exclusive rug. 
RUG CUSTOMISATION
Before starting work on your bespoke rug, contact the BALSAN team and design studio for more information on minimum orders and the full range of options. 
PRIO    
Fall in love all over again with PRIO from the Dare Your Dreams collection by interior designer Natacha Froger (Booklet n°3). 
PRIO is an acronym formed from Pavage (geometric patterns), Ramée (a canopy of leafy branches), Imago (the metamorphosis of the butterfly) and Optique (illusions crafted in black and white). They represent 4 fundamental artistic dimensions for Natacha Froger, the renowned interior designer who created this new Balsan collection. Visit Balsan's Design Studio digital platform to customise these 55 inspiring, genuinely original designs. With Balsan's many expert colour palettes, and our 10 high-performance textile backings, you can try out your creations in situ until you are completely satisfied. A sample will then be created for you using superior quality digital printing. What a way to visualise your future layout! The first step towards a successful outcome.
For more customised carpets, contact the BALSAN team and design studio to find out minimum surface areas and all the creative possibilities of bespoke textile flooring.

Customisation
From an idea to completion in a single step
Choose Balsan's personalisation option and carpet your space a thoroughly different way.

Collections
Because there is a story behind every product, Balsan invites you to explore the collections.