LIKE RAMBLING THROUGH THE FOREST…
"Cities should be built in the countryside," a Belle Époque writer once joked. What if, instead, we brought the forests to the office?
Based in the heart of the Berry countryside, surrounded by trees whose colours change with the seasons, Balsan's designers were inspired by their idyllic environment. Through the new Take a Walk collection of office carpets, they share the feelings elicited by this welcoming, calming and invigorating natural setting. An invitation to ramble through the forest and bring a breath of fresh air into the office.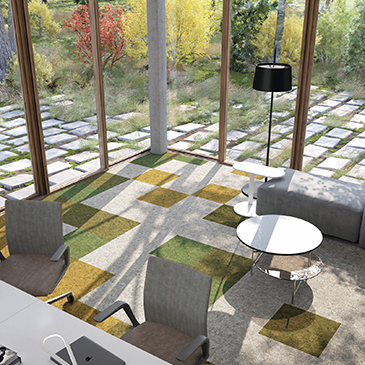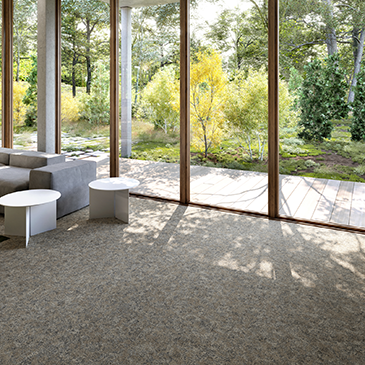 The texture of the Take a Walk textile flooring appears to have been shaped day after day, like forest trails under ramblers' footsteps. The eye appears to detect clumps of moss, leaf and plant debris, and a play on shadows typical of the undergrowth, giving the floor an organic and irregular effect. The colours spontaneously evoke natural hues: the browns of soil and bark, multiple greens, autumnal colours, frosty blue greys... All that's missing are that earthy smell and birdsong!
The contemporary Take a Walk carpet collection comes in tile format and is available in 20 colours, which can be laid down monochromatically or in an array of shades to broaden the spectrum of hues. In bright service-sector spaces, create a sense of continuity between the outdoors and indoors and design serene atmospheres for leisure and co-working spaces.
This collection is also available in 4-metre-wide rolls: Take a Walk Roll, in a choice of 12 colours.

Customisation
From an idea to completion in a single step
Choose Balsan's personalisation option and carpet your space a thoroughly different way.

Collections
Because there is a story behind every product, Balsan invites you to explore the collections.