DARE YOUR DREAMS 7 Collection - Talenty
Head eastwards with the new Balsan carpet flooring inspirations booklet, created and illustrated by young Polish designers from the renowned Higher School of Art and Design de Łódź.
Polish Design is a growing force in our history-rich Europe. The constraints of the country's communist past have fostered simplicity, ingenuity and creativity: values which fit perfectly with the spirit of our times.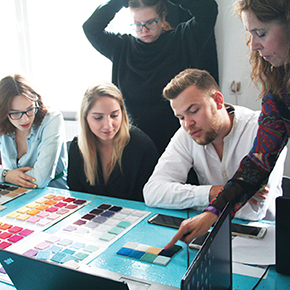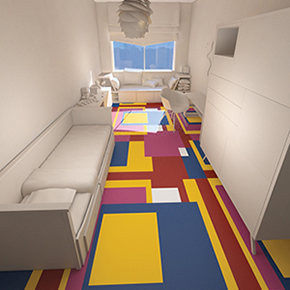 Balsan has been swept away by this breath of fresh air and has chosen to dedicate the 7th opus of our new Dare Your Dreams carpet collections to young talents from Poland, interior and industrial design students specialising in visual communication, fashion, jewellery and industrial forms.
Fold cloth, observe fabric, touch it, feel it, listen to it... With these simple actions we can reconnect with our senses, lost in modern civilisation. At our fabric workshop we have created modern carpet designs with precisely this goal in mind: reawakening sensitivity to once again find the natural logic in the material. Our young designers have been encouraged to dream big, and have realised - over the course of this carpet design project reflecting the Polish vibe and culture - that everything possible. "If your dreams do not scare you, they are too small." Their dreams were huge! You're going to fall in love with the subtle ambiances they conjure up, drawn from nature, rich and soothing (patterns inspired by the Baltic Sea, trees, lush vegetation…). Discover creative and original designs dreamt up for a world where carpet flooring takes on a contemporary architectural feel. 
Discover the spirit of "Dare Your Dreams 7 – Talenty" in our special new booklet and use Design Studio  to experiment with colours to create your custom carpet for a minimum area of 100 m². Our design office is on hand for all your custom carpet designs.

Customisation
From an idea to completion in a single step
Choose Balsan's personalisation option and carpet your space a thoroughly different way.

Collections
Because there is a story behind every product, Balsan invites you to explore the collections.