Design: express your personality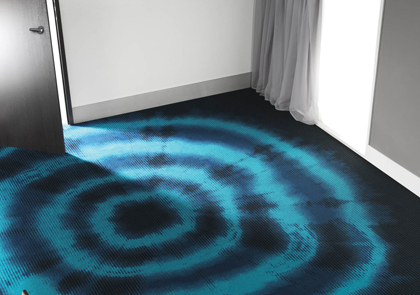 One small step for carpets, a giant leap for design!
You can make your idea a reality in just one step. Balsan adapts to your creative process to meet your highest expectations. You can choose from across our different collections to customise your project as much as you like. In a world where flexibility is king, adapting to our clients' needs is essential for us today. So we attach a very particular importance to bringing together design and quality in order to make your interiors into unique, comfort-filled spaces. 
Create your own using our personalisation module.
Each project is customised
Balsan offers customised solutions, depending on your project. For projects of 100m2 or more, you will find our Twilight and Sunlight colour palettes in our Color lights colour bank: one is imbued with the soft warmth of sunrise; the other with the dusky touch of evening. For projects of more than 400m², our duo concept means you can match, combine and design your personal concept from among the designs in the Duo, Duo2, Duo3 and Duo4 brochures. You can also take a look at our special designs in our Territoires collection. And if your project is of 800m² or more, use the Color Spirit colour bank: step into a world without limits, with an infinite colour palette offering boundless creativity for your designs.
Dare your Dreams
Balsan has pushed personalised design to its limit. Across four creative portfolios entitled Dare Your Dreams, just one rule applies: complete creative freedom. the only limit is imagination. We approached the top two cohorts of fine art students in Paris and Lyon, who showed Balsan their creations. Dare Your Dreams 3 presents PRIO, a carpet collection conceived by the interior designer Natacha Froger. While Dare Your Dreams' 4th edition takes us behind the scenes at Balsan, where the design team had only one restriction: that there was no restriction. This last portfolio lives up to its name: No Limit...

Customisation
From an idea to completion in a single step
Choose Balsan's personalisation option and carpet your space a thoroughly different way.

Collections
Because there is a story behind every product, Balsan invites you to explore the collections.