A graphic, designer carpet tile by Balsan
A new Balsan entry-level product: Trust carpet tiles boast an original, tone-on-tone design which changes according to the lighting and your perspective. The lined pattern of this designer carpet flooring comes in a range of urban colours - greys, beiges, blues and a beautiful deep red. It works perfectly as an office carpet, both for co-working spaces and personal offices.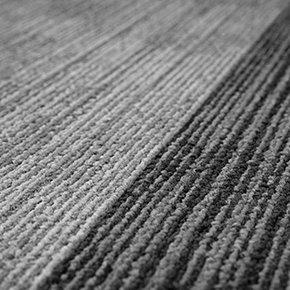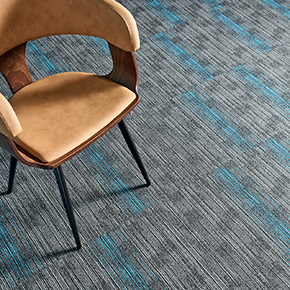 Trust designer carpet squares from the Résonance collection are a perfect partner for our plain-coloured carpet tiles, Avenue or the structured Karma. Combine them to demarcate your office flooring and create a structured effect.
Made of 100% solution-dyed* polyamide yarn and great for heavy footfall areas, Trust designer carpet tiles offer excellent technical performance to meet the needs of your most demanding interior design and commercial office carpet projects. While the concrete greys can be used in limitless combinations with natural materials such as wood and marble, the blues and reds provide a splash of colour and clever signage possibilities for open-plan spaces.
Trust is made from solution-dyed fibres, making it easy to clean (integrated colour).The tile is more resistant to stains and cleaning products - even the most aggressive ones - and holds its colour better when exposed to light.
TRUST LINES & TRUST STRIPES: AN EXTRA SPLASH OF COLOUR…
With Trust carpet tiles, on the basis of a minimum surface area of 2000 m², Balsan is bringing a splash of colour to your office flooring so that you can create a customised and unique interior.
Using the 8 background colours from the Trust designer range, you can choose a colour accent from 12 solution-dyed products (3 different blue carpets, including a turquoise, several greys, taupes, beiges, a bright orange and a deep red). This original touch, which can be subtle or more intense, perfectly sets off the lined pattern of the Trust carpet tile.
Trust Lines: fine and random lines of colour.
Trust Stripes: more obvious lines for a more intense colour effect.

Customisation
From an idea to completion in a single step
Choose Balsan's personalisation option and carpet your space a thoroughly different way.

Collections
Because there is a story behind every product, Balsan invites you to explore the collections.