The Welcome collection: add some style to your communal areas
Designing communal areas is a challenging task. Entrance halls, stairs and corridors are all unavoidable, high-footfall spaces. The Welcome collection features Balsan carpets that have been specifically tailored to these areas.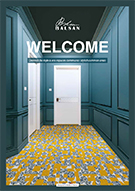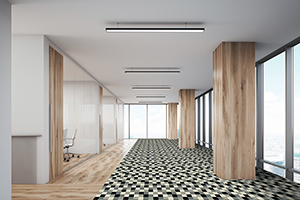 Textile floor coverings offer some substantial advantages for these kinds of spaces. First and foremost, carpets ensure excellent acoustics, as they reduce impact sounds by 25 to 34 dB. To obtain the same effect with hard flooring, you would need to lay it 60 cm thick!
They are also cost-effective because they trap heat for improved insulation (10% more heat than hard floors), meaning that choosing carpets enables you to reduce your energy consumption in communal areas.
They are also excellent in terms of safety, as their non-slip characteristics reduce the risk of accidents and reduce the impact of a fall.
Need some inspiration for rejuvenating your communal areas? Browse our solutions and ideas for these spaces in the Welcome Book.

Customisation
From an idea to completion in a single step
Choose Balsan's personalisation option and carpet your space a thoroughly different way.

Collections
Because there is a story behind every product, Balsan invites you to explore the collections.