Place :
rue Camille Claudel, 10000 TROYES - FRANCE.
> Visit the hotel website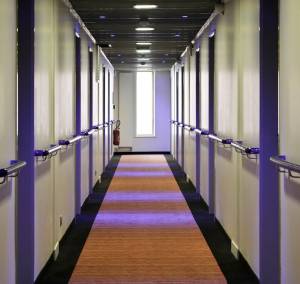 Context:
The hotel was built in 2010 with the focus on sustainable development and an environmentally-friendly approach (the hotel has been awarded a Low-Consumption Building label - BBC, and is fitted with solar panels). The hotel boasts 77 bedrooms,
o Located in Troyes city centre a stone's throw from the pedestrian area, this harmonious hotel features a contemporary design that blends modernity, comfort and quality.
Balsan recommend's:
Textile flooring improves rooms' acoustics and features certain inherent qualities that make it a perfect fit with the hotel's environmentally-friendly and sustainable development priorities.
Balsan Product(s):
TOP DESIGN 1100 - Basic Line 17, poudre / TOP DESIGN 650 - Lyrique, taupe.