Lobbies, reception areas, lifts, corridors, staircases: all these places are subject to more traffic than others. Recreative, the new collection of carpets for heavy-footfall areas, is made of recycled yarn and provides a technical and creative response to these common areas' particular needs.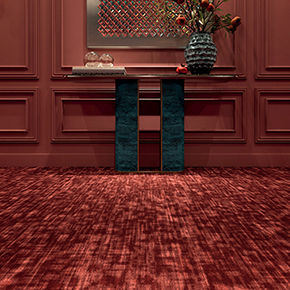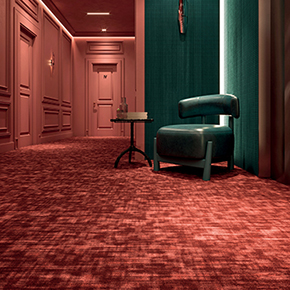 On a technical level, the new 1,100-g Econyl® substrate (U3SP3 classification) offers remarkable resistance to wear and tear and marks from shoes, as well as soiling. This makes the carpet easier to maintain. It is also positive for the environment, since the yarn is made entirely from recycled nylon. The sound absorption level of 0.25 offers an acoustic comfort that is rarely equalled and particularly good in a long hotel corridor, for example. The sound of footsteps, trolleys and wheeled suitcases melts away.
If you are looking for creativity, look no further than Odyssey, the first pattern in this heavy-footfall carpet collection, which was inspired by the irregular weave of a mottled fabric. It is available in seven vibrant colours that blend easily with the feel of your space. This design has been created to make connections easier, especially for those T-shaped corridors which often tend to break the continuity of a space. You can also express your own creativity by customising the Odyssey pattern (for orders from 100 m2). You are welcome to visit the design studio to try out your ideas.

Customisation
From an idea to completion in a single step
Choose Balsan's personalisation option and carpet your space a thoroughly different way.

Collections
Because there is a story behind every product, Balsan invites you to explore the collections.