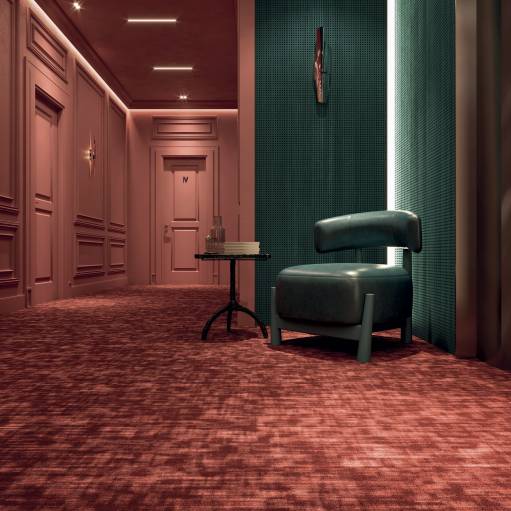 Like a weft strewn with light
Odyssey, the inaugural design from the Recreative heavy-footfall carpet collection, is inspired by the irregular weave of a mottled fabric. The vibrant pattern changes with the light, banishing monotony. Unpredictable and luminous, it seems to capture threads of light between its meshes. Are these reminiscent of the recycled fishing nets that make up Econyl® Li yarn? Perhaps... In any case, you are walking on a floor with a reduced environmental footprint. And what's more, you don't make any noise. It's ideal for heavy-footfall areas such as corridors, for instance. Not coincidentally, the pattern of this noise-reducing carpet is designed to facilitate connections. The grid's design can be connected both lengthwise and widthwise, which is particularly useful for T-shaped corridors. Finally, the seven colours of Odyssey are not particularly eye-catching, but rather harmonise tactfully with the existing atmosphere.
Technical details
Features
Composition
100% regenerated nylon ECONYL®
Structure
Tufted carpet, printed Saxony
Total weight (g/m²) - NF ISO 8543
2130 g/m²
Tightening - NF ISO 1763
49
Impact noise insulation
ΔLw 28 dB
Airborne noise absorption
αω 0.25
Antistatic velvet
2kV
Thermal resistance
< 0,15 m² C°/W



Classification
UPEC
U3SP3E1C0
- 04/084-03

Download Brochure
(6.09 MB)

Download Brochure
(4.45 MB)

Customisation
From an idea to completion in a single step
Choose Balsan's personalisation option and carpet your space a thoroughly different way.

Collections
Because there is a story behind every product, Balsan invites you to explore the collections.