LES BEST DESIGN II Collection
Graph Like unfolded origami
A geometric patterned carpet, perfect for hotels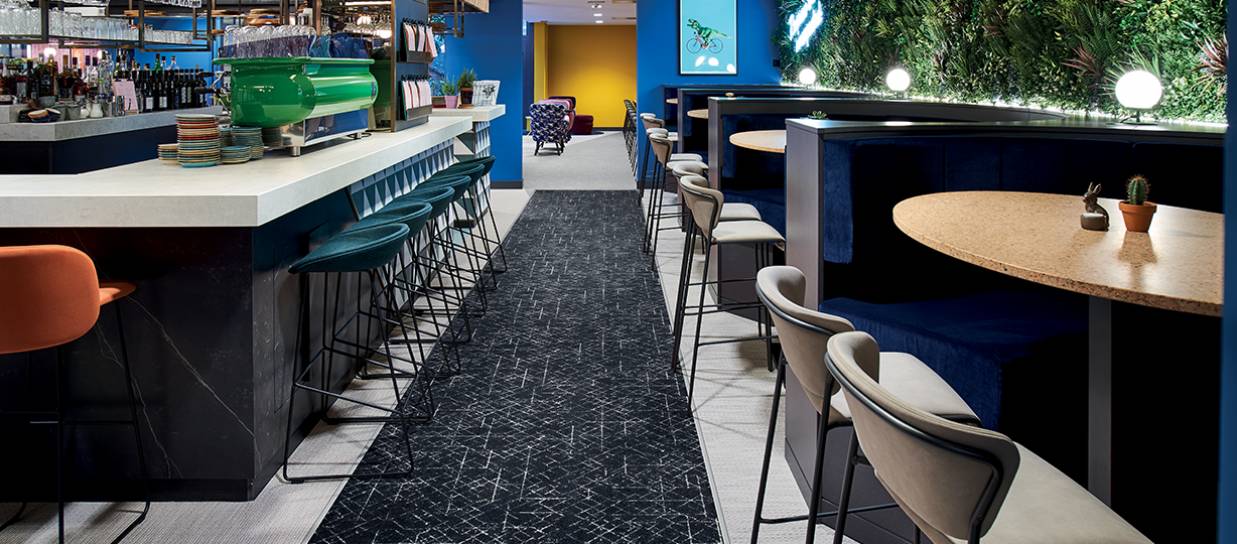 A geometric patterned carpet, perfect for hotels
With our Graph carpet, it is almost as if origami sheets have been folded, then unfolded and laid on the floor. Some folds are clearer than others. There are straight and diagonal lines, both strong and weaker ones, forming a perfectly geometric weave, but one which has been partially erased by an imaginary brush.
Your floor is transformed. This hypnotic graphic carpet draws the eye with its astonishing texture, which is not easy to decipher. It's a kind of geometric conundrum.
The patterned geometric carpet Graph is available in 8 colours, some tone-on-tone and others in contrasting shades, all of which are perfect for understated interiors. Extremely hard-wearing (U3SP3E1C0 classification), Graph is suitable for areas with heavy footfall.
Comfortable, calm and delightful
Carpets instantly create that relaxed, snug atmosphere customers are looking for in a hotel.
In the lobby, a beautiful, comfortable and durable carpet sets the tone for the kind of wellbeing experience your guest will enjoy throughout their stay.
In the hotel's living area and bar, a carpet means that customers can make a quiet entrance, without causing others to stop and stare.
In bedrooms, an extra thick carpet is perfect for encouraging customers to kick off their shoes and make themselves at home. It is, without doubt, the best floor covering for a relaxing room.
Digital printing - colour to the core
Digital textile printing allows for an infinite variety of patterns and colours in your hotel's floor covering.
This technology produces carpet fibres that are dyed to the core, rather than just a surface print, meaning the colours will be preserved for the carpet's entire lifespan.
Balsan offers a huge variety of printed carpet collections with inspiring patterns, which can be customised for surfaces from 100 m².
Be on trend: combine patterned carpets with matching plain-coloured ones.
French quality at unbeatable prices for your hotel!
All our textile floorings are "made in France", guaranteeing your hotel quality carpeting.
Choosing a Balsan carpet for your floor brings so many unique benefits. They are comfortable (in terms of both feel and sound insulation), decorative, hardwearing, economical (thanks to their heat insulation), environmentally-friendly (because of energy savings) and healthy (trapping allergens).
Balsan carpets and carpet tiles offer the best possible value for money!
Technical details
Features
Structure
Tufted carpet, printed Saxony
Total weight (g/m²) - NF ISO 8543
2285 g/m²
Tightening - NF ISO 1763
47
Impact noise insulation
ΔLw 29 dB
Airborne noise absorption
αω 0.25
Antistatic velvet
2kV
Thermal resistance
0,15 m² C°/W



Customisation
From an idea to completion in a single step
Choose Balsan's personalisation option and carpet your space a thoroughly different way.

Collections
Because there is a story behind every product, Balsan invites you to explore the collections.