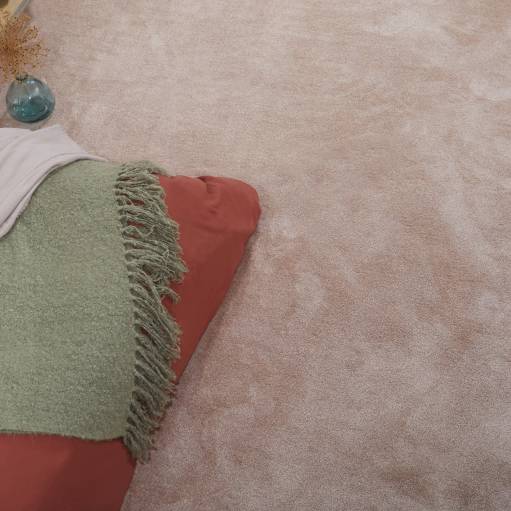 Soft and gentle in every way!
The thickest, softest and cosiest of carpets
Oh la la, it's so soft! This opulent carpet from the Emotion collection with a Saxony pile has a depth of 15 mm, delivering the ultimate super-soft experience. It feels like walking on a cloud, especially in its white or pale-grey shades. Alternatively, you can be tickled pink by the ultra-glamorous 'Kiss' and 'Poupoupidou' colours, indulge in the 'Lolita' or 'Coconut' hues, or picture yourself in Hollywood with the 'Bling', 'Diamant' or 'Blue Lagoon' options. These twelve bright and cheerful pastel colours add a touch of tenderness to the carpet's soft feel. With this irresistibly fun and comfortable thick pile carpet, you can immediately create a cosy atmosphere in a bedroom, or a heavenly cocoon for a child's room. This thick and bouncy ultra-dense carpet with a very high pile is wonderfully pleasant to the touch, like a comforter. You will be tempted to sleep on the floor!
Choose carpet for unbeatable comfort.
Touch your carpet, caress its lush, silky pile, imagine resting your bare feet on its downy surface… a carpet takes you on a sensory journey.
Comforting, insulating and even opulent, a thick carpet is a must for relaxation spaces such as your bedroom or living room.
The thickest carpets can be laid in these rooms, which have the lowest volume of traffic.
Why wait? Treat yourself to gentle awakenings and quiet moments just for you!
Choose carpet, a French-style luxury!
Balsan's style and technical teams are committed to creating high-quality carpets which make a real difference to the health and well-being of their users.
With our luxury designer carpets, style your interiors with innovative, chic and luxurious textile floorings and create exceptionally sophisticated spaces.
Recognised as a high quality carpet brand throughout the world, our premium carpets are stocked by our partners and specialist flooring retailers.
Colourful carpets for statement interiors.
Carpets give you unbeatable creative freedom with their inexhaustible colour palettes, in both plain and printed versions.
Create a unique interior design using contrasting or nuanced colours for your new spaces or refurbishment projects!
Choose a carpet flooring with colours that are out of the ordinary: an orange carpet to liven up your office, a bright turquoise in your living room or an elegant pearl grey for your bedroom…
Opting for colour for your carpet flooring will make your house a home. Play around with colour and find the meaning of true comfort.
Technical details
Features
Structure
Tufted carpet, Saxony
Total weight (g/m²) - NF ISO 8543
3115 g/m²
Tightening - NF ISO 1763
64
Impact noise insulation
ΔLw 28 dB
Antistatic velvet
2kV
Thermal resistance
> 0,15 m² C°/W

Customisation
From an idea to completion in a single step
Choose Balsan's personalisation option and carpet your space a thoroughly different way.

Collections
Because there is a story behind every product, Balsan invites you to explore the collections.