Home: coloured carpet, what effect does it have on my interior?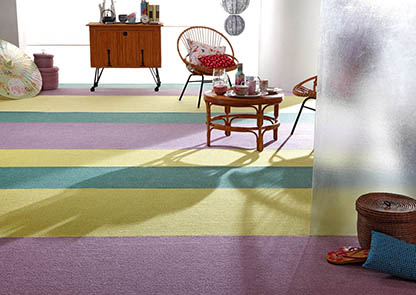 Opting for textile flooring with original colours makes for a personal touch.
Chromotherapy: when colours make you happy
Some red to give the study an energetic vibe, some turquoise for a pure bathroom or some blue for a calm atmosphere in the bedroom... What if the best way to fight against daily stress was to resort to colours?!
Choosing the colour of a textile flooring not only means checking that it goes with the rest of the decor but also making sure it suits the atmosphere created by the selected colour. Chromotherapy makes your house nicer to live in and everything starts off with your flooring. 
More colour for a personal touch 
Why be predictable when you can amaze? Carpet is the flooring type with the most available colours. It offers numerous possibilities: contrasts or colour gradients for tailor-made interior decor.
From flecked broadloom to multi-structure tiles, there is something for everyone and every home!
Colour - how to create more space without knocking down walls
Some parts of the house often seem narrow, cluttered by furniture, and are not particularly inviting. So what's the solution ? Using colour to create more depth. Using pale colours, spaces are made bigger and the "closed off" effect created by the furniture is lessened. Warm colours are not suitable for the floor as they tend to suffocate small rooms.