Home: why choose carpet for a bedroom?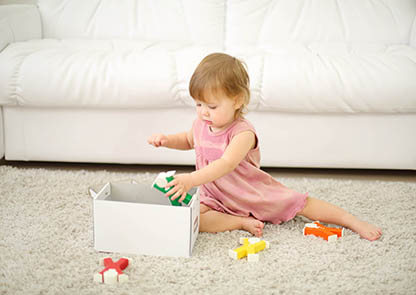 Create a highly comfortable place to live in.
Carpet for a gentler wake-up call
Do you long for a softer transition from your bed to the bathroom in the morning? Go for carpet and your mornings will become even more enjoyable. Reassuring, insulating and sometimes even opulent, it is the very best floor covering for bedrooms!
Carpet satisfies comfort aficionados thanks to its unrivalled softness, and has also managed to win over sceptics thanks to its easy laying methods, simple maintenance and wide array of materials and colours.
Choosing carpet for your bedroom means bringing a touch of comfort without any added hassle. 
Children and carpets, long-lasting allies
From their first steps to games of hide and seek, carpets have been around for children to support them in their growth and to protect them.
Hard to clean and dust heaven: these 2 preconceptions put carpets to the side for a time, but they have now come back stronger than ever! It is the only floor covering able to withstand the different phases of childhood: providing comfort, cushioning falls and trapping allergenic dust, making it easier to vacuum and eliminate. For young children, go for a woollen carpet or carpet tiles, which can be changed if they get stained. Older children, who enjoy video games, will appreciate its comfort so much that they will be sitting on the floor before long!
Carpet is undeniably a flooring full of character, able to play around with colours and structures to reflect everyone's personality.