Home: why opt for carpet?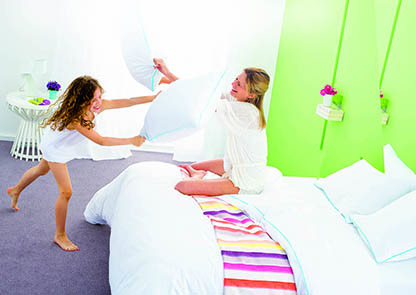 Playing around with colour and finding the meaning of true comfort.
Carpet, the rough diamond for those with a creative side
Carpet offers unrivalled creative freedom thanks to its wide variety of colours. You can play around with contrasts and hues and create hundreds of combinations, resulting in unique interior decor.  

There are a number of possibilities for both broadloom and carpet tiles. The first will give you an ultra-chic floor covering. If you wish to mix and match materials then go for carpet tiles instead and you can switch from one colour to another, from patterns to plain, or even create an area with several different structures!
Comfort beyond compare for the senses
Opting for textile flooring means enhancing your well-being: carpet rekindles your senses. From the tip of your feet - cushioned by soft material - to the tip of your ears - cajoled by unrivalled acoustics that eliminate all signs of noise pollution.

Your nose and mouth also benefit from carpet as the air around you is purer than with hard floors. Acting like a dust filter – just vacuum and air out the room regularly – carpet is gaining ground in the race against smooth floors that leave dust suspended in the air, making it more likely to be inhaled and cause health problems.

This floor covering also cushions falls and is therefore safer.