Hotel: choosing carpet for its colour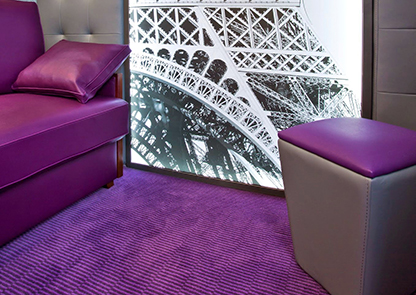 Above and beyond taste when it comes to decorating, colour affects the overall atmosphere, and must be chosen accordingly.
Put some colour in your life, but make sure it's the right one!
Some say that a "hotel is a home away from home"! Unfortunately you cannot reproduce it perfectly as the codes relating to the use of colour in each are different. In the hotel industry, colour plays a key role and cannot be approached with the same freedom as in a residential setting. As such, pale textile flooring should be avoided in hotels so as not to risk quick alteration. Furthermore, darker flooring generally gives a more refined finish.
Soothing purples or invigorating greens... it has been proven that our choice of colours affects the general atmosphere! So, before choosing the colour of your textile flooring, you need to study the virtues of different shades to ensure they coincide with the different rooms.
Colourful carpets for wide-open spaces
Rooms – bedrooms, offices or corridors – in urban hotels are often quite small, making them less welcoming. What if a little colour were the solution? How you perceive the size of a room is significantly enhanced by a flat tint of colour, materialised by broadloom carpet. With tiles, you can create optical illusions by playing on different tones of a same colour to increase the feeling of texture, thus putting a stop to the "closed off" feel emanating from the furniture.
To go even further in the colour-originality spectrum, why not opt for tailor-made textile flooring: hotel's charter or pure graphical creation, for exceptional results! This customisation process can even be used to lay marks - particularly in the stairs - to meet safety standards and help direct the visually impaired.