Hotel: choosing your carpet in line with regulations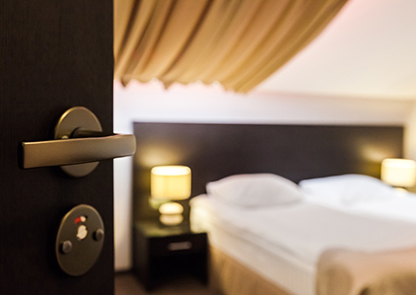 By studying the product's technical features to make sure they coincide with your hotel's regulations. 
Hotel and carpet: always hand in hand
Following European standardisation, the hotel industry is expected to comply with increasingly strict regulations in terms of noise and safety. As a true solution to this, carpets fight against noise pollution: you would need a 60 cm-thick hard floor to equal a carpet's soundproofing effect.
It is very simple to adopt with the right criteria in mind: efficiency index for impact noises and absorption of airborne noises. The first assesses insulation between two rooms located one on top of the other, or in certain high-traffic areas such as hotel corridors. To meet this criterion, you should choose a carpet with a delta Lw higher than 18 dB, knowing that if the hotel is renovated, the floor covering has to be replaced with a carpet at least as efficient as the previous one.
Regarding the absorption of airborne noise, regulations require a standard threshold of αw = 0.25 in the hotel industry. Carpet tiles and standard carpet result in good sound absorption, so long as you have made sure the product complies with the required threshold.
Carpet for environmentally-friendly hotels
Hotels are being increasingly subjected to technical norms, and environmental regulations have now become a major issue as well. With textile flooring designed and produced in accordance with such measures (HQE, BREEAM, etc), your hotel could benefit from substantial advantages.
Indeed, thanks to its insulating textile structure, carpet acts as a natural thermal barrier which reduces temperature variations of interior air. Compared to hard floors, the energy used by heating and air conditioning systems can be reduced by 8 to 12% with our carpets. Nonetheless, when choosing your textile flooring, remember to check for product compatibility with your heating system.
Another important factor is that our carpets are GUT-certified, which means that the flooring chosen does not contain any polluting materials or compounds that could have an adverse effect on health.
Both comfortable and aesthetic, carpet optimises your quality of life.