Hotel: how to combat carpet stains?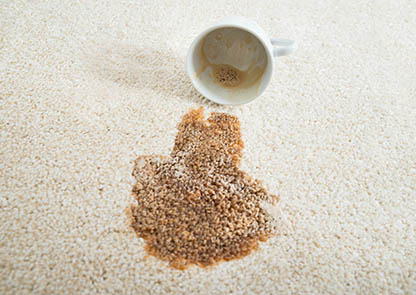 By acting quickly and methodically.
Speed: the best weapon against stains
Although high and comfortable, carpet is simply absorbent. Stains are so much easier to remove when you act quickly after the accident. To avoid lasting marks on your hotel's flooring, you must act within minutes after the spill. A stain that has set in is harder to remove.
However, choose your stain remover with utmost care as the kind of detergent to be used can depend on the type of dirt. It is a good idea to try the product on a hidden piece of carpet to make sure it is suitable.
A well-established action plan to ensure your carpet lasts longer 
Once armed with the right product, here is the procedure to be followed:
Step 1: Dab the stain with a clean, dry and absorbent white cotton cloth to soak up the liquid spilled on the carpet. Avoid any rubbing movements so as not to damage the pile.
Step 2: Use a suitable stain remover.
For solid stains, use the following method:
Step 1: Remove the excess from the surface with a spatula.
Step 2: Use a white cotton cloth soaked with the recommended stain remover. Vigorously dab the stain without rubbing it or over-wetting it. It is important to prevent the stain from spreading, so dab from the outside in. So long as the stain keeps seeping into the cloth, keep on dabbing.
Step 3: Apply a special carpet shampoo with an upside-down glass to massage the stained area whilst gathering the foam created by the movement. Repeat the operation until the foam has completely disappeared.
Step 4: Rinse the area off by dabbing on some water with a damp sponge. Then, absorb as much moisture as possible with a dry cloth.
Step 5: Lay another cloth (or paper towel) - about one centimetre thick - under a heavy object that is wrapped in cling film. This will act on any residual moisture or remaining dirt.