Office: how do I choose my carpet's format?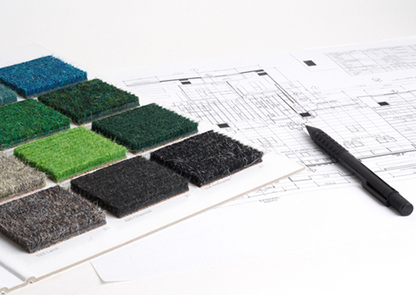 By taking room type into consideration, as well as your desired colour palette.
Fewer choices to be made when opting for carpet
Knock those walls down, open spaces are a must! In this office, spaces can be demarcated by floor covering. How? By combining materials! Borders are thinner between your various open-space areas, but they are all clearly defined thanks to a subtle assembly of carpet tiles and strips. Broadloom can also be used to establish a contrast, thanks to meticulous cut-outs or using existing patterns. Choosing between broadloom, strips and tiles depends solely on the result you want. 
Uniform or customised offices?  
Your brand image should stand out in your offices, so use the wide range of possibilities offered by our carpets to represent your brand as best as you can. For a sober or fully monochrome look, we recommend that you use broadloom. 
Conversely, carpet tiles or planks will enable you to play around more with textures and colours. Pick one format or mix them up! Chevron, chequerboard or a long thin strip, choose a unique structure and lay your carpeting in an unexpected way. Everything is possible. The Balsan team is on hand to help you design your spaces.
You can obviously also get a single-colour result with carpet tiles or strips.
Lastly, the distinction you need to make concerns the number of hues wanted in the room.
Spare your carpet
Formerly accused of being a dust trap, carpet has managed to regain its prestige in the face of preconceptions that have gradually faded away.
Now we have tested and proven resistance instead! Carpets are carefully analysed in external laboratories certified by Balsan to prove their ability to endure the harshest treatment when used in your offices.
If carpet tiles and strips are so successful it is also thanks to their interchangeability, so your office flooring never gets dirty.
First and foremost, set out your project's limits so you can choose the most appropriate solution.