Office: Soft vs Robust: how do I choose carpet according to room type?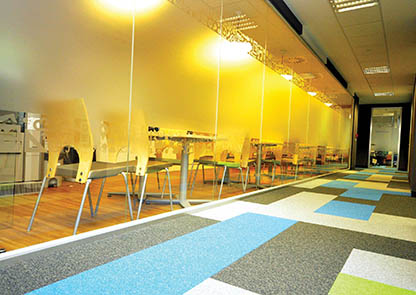 Choosing the right carpet for your office means finding the perfect flooring for each individual area.
Carpet to support high-volume traffic areas
Fast-paced office life means that floors are often neglected: desk chairs with wheels or feet pounding along the corridors. Your working environment is affected, resulting in noise pollution.
Acting as the perfect compromise, carpets provide high resistance and sound insulation. In open spaces, offices and high-traffic areas, we therefore recommend that you choose textile flooring, that can bear intense use and reduce noise levels at the same time.
Are some of your rooms regularly exposed to sunlight? No need to panic! Some carpets are now UV-resistant, thus ensuring floor uniformity regardless of the lighting.
« Thinking outside the box in common areas
To instate a corporate feel, we suggest focusing on your common areas (cafeteria, reception hall) to convey the company culture. To do so, bring a personal touch to these areas thanks to tailor-made textile flooring that complies with your company's colour codes.
Combining several types of tiles is also a great way to let your imagination run free, thus making creativity your leitmotiv.
In the landings and staircases, you can also create your own signs for visitors or people with impaired eyesight. This will be materialised by changes in hues around obstacles such as stairs.
"Choose a job that you love[…]" 
"[…] and you will never have to work a day in your life". According to a survey conducted by the CSA and JLL research institutes, employee performance depends on the quality of their working environment, hence the importance of balancing out stimulation and tranquillity. In waiting rooms or break rooms, soft carpet should be favoured so people feel calmer.