Office: why opt for carpet ?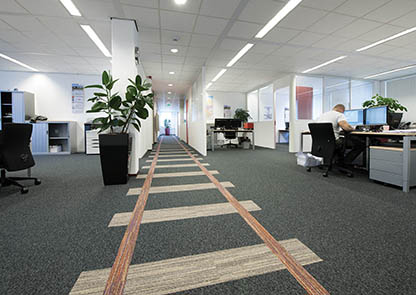 Do you work in an open-space office, with constant toing and froing in corridors? At work, noise is part of our daily lives. Here is how carpet can help with that…
Silence is not a luxury
Working in an open-space office is not always easy. The reason being ambient noise pollution: the number one enemy in France. Carpet is the most efficient flooring at countering the problem as it helps muffle the noise made by steps, chairs dragging on the floor and other everyday noises… 
Carpet used for signage
Opting for textile flooring in your offices means leaning towards creative freedom. Carpet is the only flooring on which the company's codes can be recreated!
In addition, accessibility is a core issue for you, and Balsan knows it. This is why you can now use carpet to play around with colours, with a view to directing people who are visually impaired. A change in hues can therefore be added near staircases or other obstacles, to signal their presence.