Office: how do I lay carpet tiles?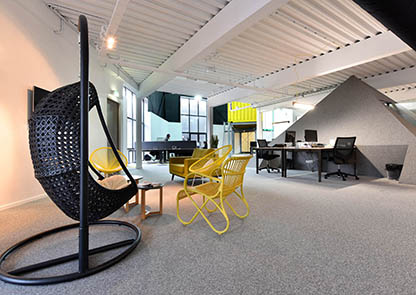 Call in a professional and ensure the following steps are complied with.
Why choose tiles ?
Carpet tiles are easier to lay in offices than broadloom carpet, but the procedure should nonetheless be carried out with help from a professional. This product is best suited for company premises as it can be changed in one room without having to remove the furniture. Furthermore, as the carpet wears more quickly with everyday traffic, you can remove worn tiles and replace them. Hence the importance of ordering more tiles than necessary for the size of your room.
Now for the practical side of things
Here is the procedure, so you can monitor the work being conducted in real time and check on each step:
Step 1: Draw out two axes: AB along the wall and AC crossing the room diagonally. Place the first tile where the axes intersect and carry on like so, creating a "staircase" so all the tiles are aligned properly. Check tile alignment frequently by running your finger along the edges.
Step 2: Check that the edges of the tiles touch properly. The contact pressure should not, however, be great enough to cause bumps and buckling.
Step 3: If you need to make any cuts, ensure the neighbouring tiles are larger than or equal to half the size of one tile. To do this, use a carpet tile as a template before cutting.
Step 5: As you lay the tiles, the floor covering must be protected from other workers there for other parts of the room. Avoid placing heavy items on the covered areas until the surface ice completed.
Step 6: Fill the room up completely.