Office: what are the benefits of intermediary cleaning?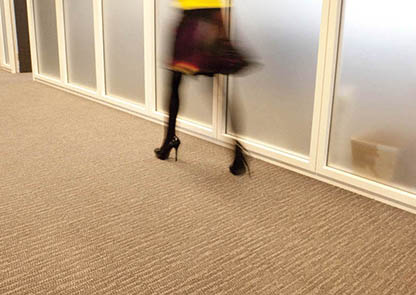 This medium-term process is used to treat areas with high-volume traffic.
Why carry out intermediary carpet cleaning?
Using a brush-type vacuum is sometimes not quite enough. The reason for this is that the carpet in your company's premises falls into two categories: it's clean, but there are a few stains here and there. Maintenance cleaning (absorbent powder) - an intermediary action between industrial vacuuming and injection/extraction - refreshes tired-looking premises.
When should it be used? Localised cleaning is recommended when the dirt is fairly superficial in high-volume traffic areas.
Operating mode & frequency
Intermediary cleaning of offices, using a rotocleaner, helps remove any greasy particles that have stuck to the carpet. As a brush-type vacuum cleaner is not effective in this situation, we recommend using this process to delay the annual in-depth clean, or even a renovation clean.
Opting for localised cleaning is common in professional premises as it means that the building is not out of action for too long. Depending on the volume of traffic in each area, the operation will need to be repeated more or less frequently. For high-volume traffic areas, we recommend scheduling six intermediary cleans per year, and four per year for normal traffic levels. Lastly, for low-traffic areas, intermediary cleaning should be scheduled one to three times a year, depending on how much they are used.