Take your hotel or office flooring to a whole new level by creating different areas within a single space with Nexus, our luxury carpet tiles
Nexus and Nexus Link carpet tiles use new MBrodery tuft technology to create sophisticated patterns as elaborate as embroidery, with great precision in the smallest of details. The whole surface of this carpet square is covered with loop pile with a non-directional texture and exceptional robustness. It is perfect for using as an office carpet tile or hotel carpet tile.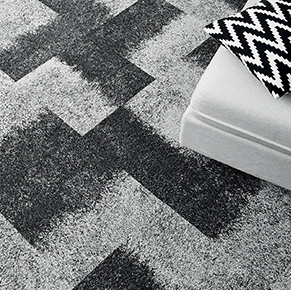 Tiles fitted on their own for a soft or contrasting design
Nexus and Nexus Link textured tiles can be installed alone, in a random layout:
Nexus: textured carpet tile with a soft and random design for a style that is full of serenity, bringing together nature and modernity. With its natural colours, this carpet tile will create a refined hotel interior (bedrooms, lounge area, reception) or professional space (office, meeting rooms).
Nexus Link: textured, light and shade carpet tile. Its pattern plays with contrast to liven up and transform your interiors with an energetic and assertive look. Ideal for immaculate interiors, the two-tone colours of this carpet tile bring a rhythm and graphic tone to your flooring - yin and yang - complementary opposites.
Mixed and matched, these tiles create an ultra-contemporary decor
Be bold with different combos! Put a twist on your interiors and have fun playing around with looks which are as inspiring to dream up as they are pleasing to discover underfoot! When used to mark a transition, Nexus Link heavy footfall carpet tiles mean you can join 2 shades of Nexus carpet tile to create continuous areas of flooring.
Go even further with your décor and combine these carpet tiles with other Balsan carpet flooring ranges. Nexus and Nexus Link hardwearing tiles are a unique textile concept which is perfect to combine with the stylish designs of the French Couture Collection of structured broadloom carpets and with the Carré Couture Collection, a collection of multi-format textile floor coverings (French Couture 4 m broadloom, Carré Couture 50 cm x 50 cm tiles and giant Carré Couture 1 m x 1 m tiles). They come in the same seven colours. Take away the walls and redesign your spaces using the floor to create an understated layout, fluid circulation and bring an elegant and contemporary touch to your hotel or open-plan offices and other shared working spaces.
Combine the Nexus concept with natural materials such as the essences of velvety wood, light-coloured textiles and tactile leather and then add furniture with comfortable curves for an ambiance that balances elegance with contemporary design. For more inspiration, have a look at our Soft Modern and Classic Class carpet trend boards.
Environmentally friendly and hard-wearing carpet tiles
Nexus and Nexus Link tiles are made from solution-dyed fibres which offer the very best resistance to discolouration, inconvenient stains and even the harshest cleaning products.
In partnership with Aquafil, our long-standing supplier of polyamide yarn, Balsan contributes to the innovative initiative of recycling old fishing nets found in the sea, giving us the opportunity to design sustainably. 100% recycled polyamide Econyl® yarn is used for the carpets resulting from this innovative flooring concept.
A joint venture between nature and modernity!

Customisation
From an idea to completion in a single step
Choose Balsan's personalisation option and carpet your space a thoroughly different way.

Collections
Because there is a story behind every product, Balsan invites you to explore the collections.