When untamed nature bursts into your interiors!
Homage to our planet
The natural world is key to creating balance. We all feel an overwhelming urge to reconnect with the power, beauty and freedom of wild nature. A vital need to reconnect with the energy that pulsates from within these authentic, untouched spaces. The new collection of Wild Nature carpet tiles from BALSAN expresses that necessary return to our roots, being the basic principle behind our love of nature: our innate tendency to seek out connections with Nature. The undulating lines of the natural landscape and vivacious shapes of the plant world contrast with the straight angles of urban architecture. Reconnecting us with untamed beauty, Wild Nature carpet tiles give us a sense of wellbeing and help to calm us, especially in the work place.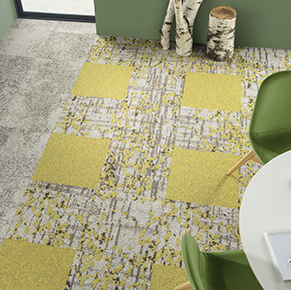 Three sources of inspiration: plant, mineral and aquatic
When dreaming of nature, our first thought is of majestic trees, tall plants beaded with dew and lush vegetation full of life. The sun peeks through the foliage, birds sing in the bushes and the fresh air of the forest makes us feel wonderful.  Carpets in the Mangrove and Eden HD designs are good examples. 
A different vision, of where we came from: Stone, rock, cliffs and mountains. Timeless minerals that know our planet's story well, giving us their strength and stability, just like the tiles in the Gypse and Atlas HD designs.
Finally, we bring you the aquatic environment, which covers most of our dear planet. The Big Blue and its silvery reflections. Vast stretches of pack ice standing firm against global warming. Water, the source of life and a sense of calm. A feeling rediscovered with carpet tiles with the Cyclades and Baltique HD designs.
Innovation and respect for nature
BALSAN uses innovative CYP Colorpoint technology to bring out the shapes, colours and movements encountered in these incredibly stimulating environments. All of the carpet tiles are made in our factories in France, and only from 100% recycled and recyclable solution dyed Econyl yarn. Last but not least, the three 'HD' designs of these eco-friendly carpets have a particularly generous pile (1,050 g/m2 instead of 850), and the six Wild Nature designs can still be mixed with each other and other collections.
The Wild Nature collection is supplied with a BBack backing as standard, and is available with a Sonic Confort underlay on request for increased environmental compliance and improved acoustic and walking comfort.

Customisation
From an idea to completion in a single step
Choose Balsan's personalisation option and carpet your space a thoroughly different way.

Collections
Because there is a story behind every product, Balsan invites you to explore the collections.