An illusion of a carpet
Uno is a carpet that plays around with appearances! Although it looks like a natural textile flooring, Uno gives homes and hotels a touch of character. Contrary to seagrass matting, Uno can easily be dyed thanks to its 100% polyamide composition. Therefore, this broadloom carpet is available in 18 shades, from the most neutral to the boldest: sand, anthracite grey, turquoise, etc.
From a technical aspect, Uno weighs a total of 2,250 grams ans is easy to clean. Uno is by default provided with a Double Dossier backing. This carpet can withstand desk chairs with wheels, meaning that it is often used in service sector areas.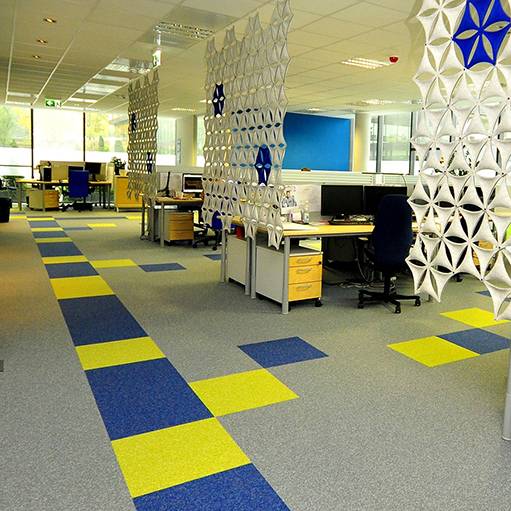 Light and reflected light
Did you know? Reflected light is an indicator of visual comfort.
The stronger the sunlight, the more reflected light there is.
A pale office carpet will make your space lighter, but it will need more care.
Visual comfort: choose your carpet tiles and strips' colour to suit the amount of light in your workplace.
Polyamide carpets - an adaptable material
At Balsan, the French multi-format carpet manufacturer, we have opted to offer most of our quality carpets in high-performance polyamide.
Polyamide is suitable for any comfortable room in your house and meets all your needs for your space: it is highly resistant, stands up to heavy traffic and is easy to clean.
Available in a wide range of colours, polyamide fibre brings brilliance to your carpet flooring.
Colour combinations and accessibility
Accessibility is now a key priority for workplaces.
Balsan's broadloom carpets and textile tiles enhance accessibility and signposting for people with visual or hearing impairments, using colours to highlight obstacles such as staircases or glass partitions.
Textile floorings' density and their non-slip properties make it easier to get about in a wheelchair.
Technical details
Features
Structure
Woven carpet, loop pile
Total weight (g/m²) - NF ISO 8543
2200 g/m²
Tightening - NF ISO 1763
0
Impact noise insulation
ΔLw 16 dB
Antistatic velvet
2kV
Thermal resistance
0,17 m² C°/W

Customisation
From an idea to completion in a single step
Choose Balsan's personalisation option and carpet your space a thoroughly different way.

Collections
Because there is a story behind every product, Balsan invites you to explore the collections.