Hotel: how do I choose the carpet's format?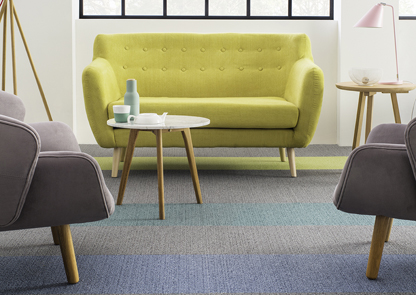 It is all a matter of result and room type. Decrypting the possibilities… 
Stylish simplicity VS creative decor
As each hotel has its own personality, it is important that you think of a charter to be complied with before the project starts. Choosing between carpet tiles, strips and broadloom will be made much easier. The first makes it possible to play around with textures and colour tones, whereas broadloom will produce a more even result.
On an equal footing, your choice between tiles, strips and broadloom will be made according to how many colour hues you choose.
Is your hotel bigger than 400 m²? Create your own tailor-made floor thanks to Balsan's customisation tool.
Goodbye sadness, hello Mix & Match
Mix & Match is gaining ground! You no longer need to choose between materials as you can now opt for several at a time. Ideal for marking out the cafeteria from the break area, the subtle combination of materials and patterns will give a modern touch to your hotel.
Broadloom, strips or tiles? That all depends on the surface to be covered. Broadloom will be used for a rug effect and tiles will serve to cover part of a room, while strips can be used in touches to section off spaces without using partitions or walls. The winning duo is all you need: 2 patterns and 2 materials, no more.
In addition, as each covering has its own laying technique, cut-outs for each carpet type must be done meticulously for optimal results.
Carpet: unfailing cleanliness
What better way to assess the quality of a hotel than by looking at its flooring? It is now so easy to meet market requirements! Carpets have changed and are now easier to maintain.  The raw materials selected by Balsan are also more resistant to wear.
If you chose carpet tiles or strips and one of them keeps changing in colour, simply unstick it and replace it.
If the use of the room has been taken into account in the choice of textile flooring, the need for cleaning will be reduced.