Hotel: how do I lay a tightened carpet?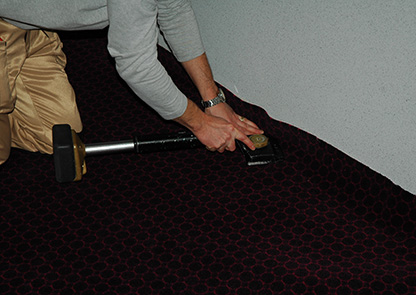 Call upon a professional so your floor is guaranteed optimal durability. 
What is a tightened carpet ?
Highly acclaimed in hotels for its increased comfort, resilience and sound and thermal insulation, tightened carpets must be laid by professionals as they require certain techniques. They namely require specific tools for making the carpet taut.
In practice, tightening a carpet consists in inserting an underlay (thick material) under the carpet to correct any unevenness in the floor. Using an underlay is recommended for woven carpets which will not distort when being tightened. This technique also applies to double backing carpets whose lifespan will be increased by 30% compared with traditional laying techniques. Please note that tightened carpets are recommended for rooms measuring less than 20 m². For rooms larger than that, you would need welded joints, which is not a process that we recommend.
Tightened carpets under the spotlight 
A tightened carpet means that it is affixed to tethers in the ground so it can be stretched out. Explanation of the required steps:
Step 1: Make sure the ground is level, clean and dry.
Step 2: Set up tether points along the skirting boards, leaving a space equal to the thickness of the carpet between the tether and the skirting board.
Step 3: Cut the tethers into 15 cm pieces.
Step 4: Apply some glue to the ground and tether, making sure that they are tilted towards the wall.
Step 5: Fix the underlay to the ground using nails or glue if the ground is too hard. Make sure you choose the right underlay if you wish to benefit from fire classifications.
Step 6: Use a "knee-kicker" to stretch the carpet.