Office: how do I deal with a stain?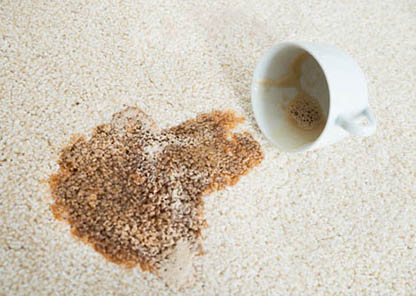 Reacting quickly and identifying the type of stain are your keys to success.
Fast action = neutralised stain
Did someone spill their coffee in front of the vending machine or worse, over their keyboard? At the office, there is always a risk of something happening. So, to avoid the unfortunate impression given by stains on your floor, you must act quickly. Reaction time is what determines whether the stains sink deep into the carpet, and will therefore be harder to remove. The older a stain, the tougher it is to get rid of...
Acting quickly does not mean acting hastily! To ensure your carpets remain free of stains, you must first select the right stain-removal product. A test of this product in an area not exposed to view can be vital in certain cases (to avoid carpet discolouration, a new stain, etc).
Stain typology - to take the appropriate action
The two most common types of stains in offices are grease stains – oil, sauce, etc. – and dye stains (coffee, fruit, etc). If you notice a stain from the first category in your office, a simple solvent should do the trick. Dye stains, meanwhile, can easily be cleaned with water.
Specific soiling such as rust, chewing gum or varnish require particular treatments, that should be applied by a qualified cleaning professional.