Office: how do I maintain my carpet with entrance protection?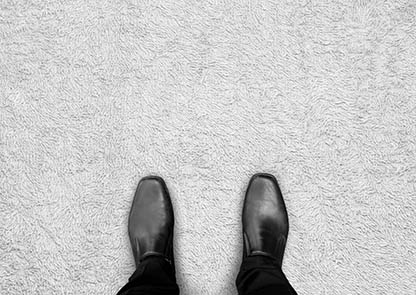 Carpet protection in offices is often touch and go.
Protecting the entrances: the butterfly effect
As a company with deeply rooted values, what better way to express your corporate ethos than through your carpet? Compared to other types of flooring, carpet offers unrivalled combinations of textures, designs and colours. But take care: carpet - like brand image - needs maintenance!
Why opt for optimal entrance protection? Because the thing that dirties your carpet the most is the grime brought into the office on people's shoes. Preventing it from being brought into the premises will help extend carpet life and may even increase the amount of time between each weekly clean.
Protecting your entrances: the whys and wherefores 
Taking every precaution to extend carpet life firstly means installing a mat at each entrance to the building in which your offices are located. In the case of a business incubator, adding more dust barriers between the various areas may be useful.
We recommend using mats that are large enough to block the path of as much dirt as possible. As a guide, a mat measuring between 1 and 3 metres stops - on average - 35% of dirt from shoes, a 3 to 5 metre mat stops 50%, and a 5 to 9 metre mat stops 75%.
As it is always better to be safe than sorry, do not skimp on quantity and opt for bristled doormats to be placed just outside the building as a preventive measure.