Rigid Clic acoustic 45 x 90 cm LVT and carpet, a perfect partnership
The clipsable "Unipush" system, designed for big  office and hospitality surface areas
The clipsable "Unipush" system, designed for big office and hospitality surface areas
Balsan is launching an integrated acoustic solution, LVT Rigid Click Acoustic to complete the SYMBIANCE range.
An integrated acoustic solution: 18dB
Increased dimensional stability
2 designs with an original natural material look (micro-bevel)
An Environmental Product Declaration (EPD)
Direct installation over existing flooring*
A ceramic varnish surface treatment
100 % waterproof and moisture-resistant
Unipush « click » assembly system
You don't need to choose between smooth-surface and textile flooring any more, now you can mix them up!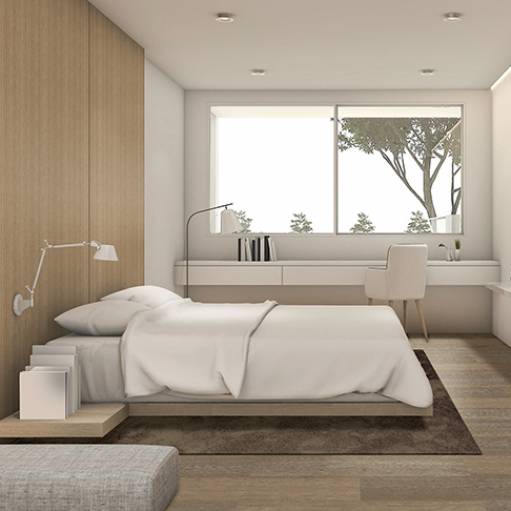 LVT flooring, a mellow warmth for hotels and homes
LVT (Luxury Vinyl Tile) floorings are naturally soft and warm as they have the benefit of being able to absorb ambient heat much more quickly than a stone floor. From the moment you wake up, place your bare feet on a Balsan carpet and make your way from the bedroom to the bathroom without worrying about the early morning cold. After work, head straight for the soothing haven that is your living room and revel in its cosy warmth.
Insulating and high-performance, our LVT tiles and planks can be laid on a heated floor and will be your new best friend; you'll want to use them in every room.
Vinyl is a durable flooring option that will meet all your requirements for residential and hotel flooring, even in the kitchen.
Don't put it off any longer! Give yourself the gifts of peace of mind and simplicity at home with our vinyl floorings.
Say yes to LVT, say no to noise!
Thanks to its technical composition, LVT flooring naturally softens irritating impact noises such as clacking heels, squeaking chairs, roller suitcases, toys and so on.
To replicate the natural acoustic performance of carpets, use Balsan's acoustic underlay.
Installed under the vinyl planks and tiles in the Symbiance collection, it works wonders in apartments or multi-storey buildings, reducing the transmission of noise. Be considerate of your neighbours' tranquillity with this anti-noise flooring!
Finish the total look with Mix&Match - use textile inserts to create circulation areas and mix broadloom carpet, carpet tiles or planks with vinyl tiles to improve the room's acoustics.
Mix & Match: the latest flooring trend is a big relief!
Originally from the fashion world, the Mix and Match trend quickly spread to interior design and can now be seen in flooring too. Unlike the all-over look, which can often be seen as too conventional, combining styles brings relief to your flooring by mixing colours, patterns, formats and materials.
You can now use flooring to give your interior spaces a unique creative energy: create destructured flooring using Balsan carpets and LVT planks and play around with textures and colours. Are you up for the challenge?
Create carpet inserts and circulation areas, which will also help improve the acoustics of your interior space.
Tiles, planks, carpet or LVT, multi-coloured or monochrome floor, at home or in the office… now's your time to shine!




Customise laying
2. Drag the tiles into the configuration tool
Fill
fill all with selected colour
Technical details
Features
Total weight (g/m²) - NF ISO 8543
9820 g/m²
Impact noise insulation
ΔLw 18 dB
Antistatic velvet
-2kV
Thermal resistance
< 0,15 m² C°/W


Customisation
From an idea to completion in a single step
Choose Balsan's personalisation option and carpet your space a thoroughly different way.

Collections
Because there is a story behind every product, Balsan invites you to explore the collections.