Making a house a home
The home, the domestic sphere: there is no better reflection of how we live and how this is changing.
The concept of home, of private life, is undergoing constant transformation to adapt to the digital revolution and the redefinition of the family unit.
The home of today needs to adapt to changing circumstances. At different times in our life we might be living alone, with a partner or children, as a blended family and maybe with friends or flatmates. This ever-changing domestic set-up is a real source of inspiration for architects. Older homes, however, are slower to reflect the change. In the meantime, we are all reinventing, redecorating and adapting our own spaces to fit our lives.
The home of today isn't just our private retreat. We are also increasingly inviting others in, using our homes as a stage for our public lives. In the era of Instagram and wall-to-wall selfies, the line between our public and private lives is becoming blurred. We are sharing, photographing and dressing up our private lives as never before. As a consequence, we are paying more attention than ever to our surroundings, which are often seen as an extension of ourselves. Like our clothes, our homes are becoming a reflection of our self-image and assuming increasing importance.
The rise in remote working and self-employment have also contributed to the redefinition of the home. Our homes are becoming multi-purpose spaces, where we live, entertain and work (and where we are spending days of lockdown, too).
Balsan is here to support you in every aspect of your home life, helping create personalised, original and flexible spaces. With Balsan flooring solutions, your home can become a unique space, a private retreat and a mirror for your emotions, reflecting every laugh and tear of your journey through life.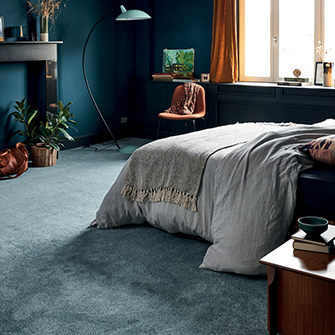 Your home: a feast for the senses
We live in an ultra-visual world where we gauge the instagramability of every moment. This means it's all the more important to cherish all that technology can't offer us. In between social media sessions, we're reconnecting with our emotions, with our physical surroundings and the importance of the senses. The paradox is that as we experience society as an increasingly virtual phenomenon, we feel a greater need to reawaken our senses.
Rediscovering the meaning in our lives is all about reconnecting with the physical world and our senses. The world of interior design has taken this on board and is distancing itself from the visual hubbub; it is celebrating materials and textures.
At Balsan, sensory pleasure is central to what we do. You can't beat the simple pleasure of kicking off your shoes and walking barefoot on a carpet. A Balsan carpet brings unrivalled comfort into your home, with opulent silkiness, gentle softness and contours that gently massage your feet.
With its range of patterns and texture, the Territoires carpet collection is an infinite source of sensual pleasures and textures for contemporary interiors.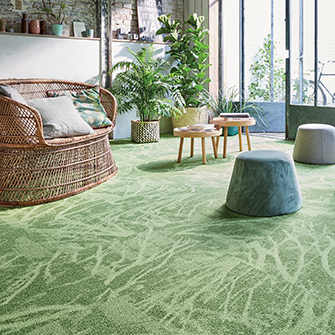 A nurturing home
As we become increasingly urban creatures, we are seeking to let nature thrive inside our homes.
The beauties and benefits of nature are all around us at Balsan. They are represented and enhanced by designers; while engineers harness them to create yarn and technological innovations.
Awe-inspiring rocks, flourishing plants, stylised flowers … Balsan's carpet and flooring collections pay homage to the many faces of the natural world. The vinyl Wood and Stone collections offer a range of nature-inspired décors that are both soothing and contemporary.
Caring for the planet is all about safeguarding future generations. Balsan is a family business and that's why protecting nature is one of our guiding values. By using innovative Econyl yarn made from recycled fishing nets, Balsan is contributing to the protection of the oceans, a commitment which is central to everything we do.
A creative and flexible home
Colour is also hard-wired into our DNA! That's why Balsan has always produced carpets in a wide variety of shades. Balsan is now bringing the joys of colour to your home in a flexible and adaptable way that reflects changing contemporary lifestyles.
Because we want to be able to alter our interiors easily, from floor to ceiling, Symbiance LVT carpet tiles and planks by Balsan combine innovation, durability and style. Available with three laying systems, 10 colour schemes and 7 dimensions, the patterns and colours of Balsan vinyl flooring can be combined any way you like, giving you free rein to inject creativity into home interiors!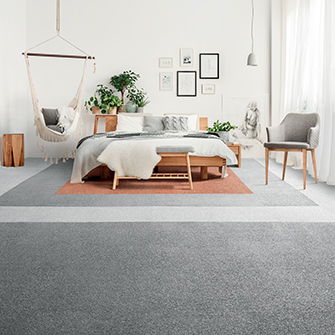 Your home … where life is good
Last but not least….
Balsan makes good use of the company's extensive knowledge and innovative technology to ensure that our carpets and carpet tiles for home use are easy to lay, modular, simple to maintain and durable.
All our carpet and tile collections are designed and made at our two sites in France and we offer products to suit different budgets in order to make Balsan's French quality and creativity accessible to all.
The current popularity of home decoration and DIY are evidence of our need to connect differently, without ourselves, with time, with our interiors. Balsan is playing our own role in this trend through our collections and values, helping to make your space a contemporary, welcoming and happy home.