Darius Dalle Sonic Confort A carpet tile for busy spaces with a hand-woven look
A timelessly chic structured carpet tile made using Econyl® solution-dyed yarn!
A timelessly chic structured carpet tile made using Econyl® solution-dyed yarn!
Darius Dalle Sonic Confort is a contemporary carpet tile available in standard format in two subtle harmonies: Mottled Grey and Linen Beige. Encapsulating the artisanal feel of French Haute Couture, it is sure to please! This carpet tile does not feature any transitions, and its uniformity makes it ideal for all your shared hotel or office spaces. Feel free to combine both Darius Dalle Sonic Confort harmonies for a play on understated and classic styles in all your interiors. Made entirely from solution-dyed polyamide yarn that is exceptionally hard-wearing, this structured carpet tile resists heavy footfall while retaining its supremely comfortable feel, making it perfect for even the most sensitive of feet! If you have more than 800 m² of space to cover, why not experiment with the artistic possibilities offered by the Carré Couture collection: use a Majda transition tile to combine the Darius Dalle Sonic Confort tile with a complementary Noura pattern. When assembled together, these versatile transition tiles can be arranged in strips, in a chevron pattern or any other graphic layout, creating subtle geometrical patterns to define your open spaces in fresh, new ways. To explore the various possibilities provided by our carpet tiles, visit our Design Studio or contact our design experts.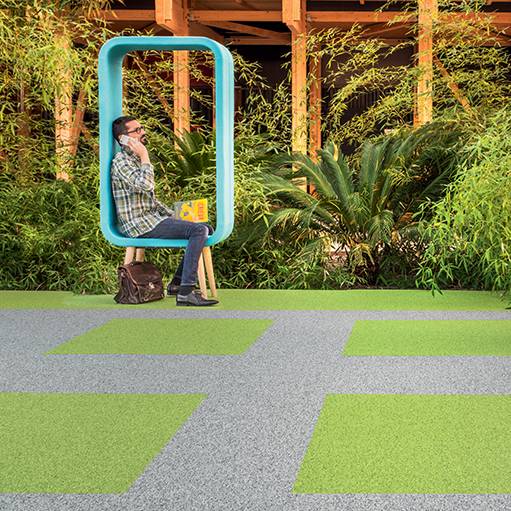 Carpets - your first line of defence against noise!
Clicking heels, rolling chairs, things being dropped, comings and goings in the corridors… At work, noise is one of the biggest stress factors, particularly in open-plan offices.
Carpets are the most effective floorings when it comes to alleviating unwanted noise, reducing impact noise by 25 to 34 dB.
Choosing a Sonic Confort carpet tile or adding a Sonic Booster Layer also allows you to reduce the hubbub that you find in every office, such as talking, ringing phones and clicking keyboards.
Mbrodery: the epitome of glamour
Cutting-edge Mbrodery technology has enabled us to take a real creative leap forwards by designing and producing exceptional broadloom carpets and carpet tiles.
Elegance, style, haute-couture spirit: express your corporate values with stylish, custom carpets.
Are you in the know about transition tiles? Half-patterned, half-plain, they demarcate interiors using a cross-fading effect. This "handmade" style can't fail to have an impact on visitors.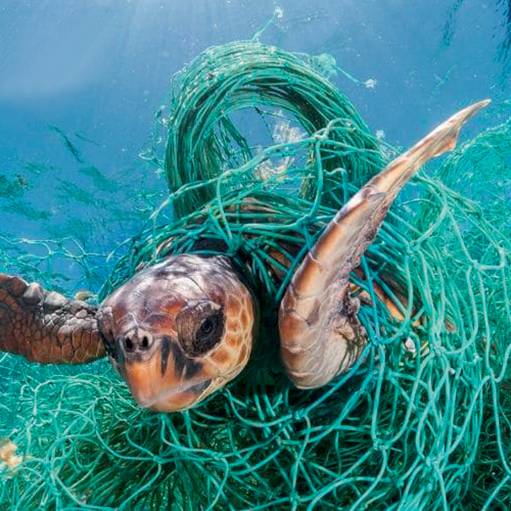 Econyl®, the recycled fibre which gives the sea a helping hand!
Over the years, so many nylon fishing nets have accumulated on the ocean floor, posing a threat to fish and marine life.
In partnership with Aquafil, our long-standing supplier of polyamide thread, Balsan recycles old fishing nets recovered from the sea.
The Econyl® regeneration system depolymerises the nets and transforms them into nylon fibres which are then reused in Balsan's 100% made in France multi-format broadloom carpets, carpet tiles and strips.
Your company can do its bit by choosing an environmentally-friendly carpet by Balsan!
Caring for your carpet is easy with Full Colors
Cleanliness is, of course, essential to your employees' well-being and to your image when you have visitors.
Full Colors solution-dyed polyamide carpet tiles keep their freshness day after day:

the pigment is integrated into the fibre, right through to its core, meaning the carpet is more resistant to stains as well as sunlight;
if mud, coffee or food stains require a deep clean, our carpet tiles withstand the use of even the harshest cleaning products.




Customise laying
2. Drag the tiles into the configuration tool
Fill
fill all with selected colour
Technical details
Features
Structure
Structured loop pile carpet tile - MBrodery Technology
Composition
100% regenerated solution dyed nylon ECONYL®
Total weight (g/m²) - NF ISO 8543
5430 g/m²
Tightening - NF ISO 1763
38
Impact noise insulation
ΔLw 35 dB
Airborne noise absorption
αω 0.35
Antistatic velvet
2kV
Thermal resistance
0,17 m² C°/W




Customisation
From an idea to completion in a single step
Choose Balsan's personalisation option and carpet your space a thoroughly different way.

Collections
Because there is a story behind every product, Balsan invites you to explore the collections.