FROM TRADITIONAL HOTELS
TO THE ART OF HOSPITALITY
Over the last decade, Airbnb has created a revolution in the tourism and hospitality industries. Beginning life as an ambitious but risky start-up, this newcomer to the flexible and collaborative economy suddenly started calling the shots in the tourism sector. Part of the "uberisation" trend shaping contemporary society, this maverick competitor forced others in its sector, including hotels, to adapt and reinvent themselves.
At a time when hotels all around the world were presenting themselves as a "home away from home" by applying standardised, global solutions, Airbnb did the opposite: it allowed visitors to discover the uniqueness of a place by giving hosts a platform to share their towns and lifestyles with others.
Hotels were initially slow to react to this new landscape but are now fighting back by offering guaranteed professionalism and specialist services and by making each hotel, and sometimes even each room, unique. By offering a window on the town or district, introducing guests to local products and providing information, every hotel is now seeing itself as distinctive, offering a subtle blend of originality and local colour, creativity and personalised services.
Operating a hotel has become an art form and one which is very much in the spotlight. A contemporary hotel is a place where everyone must feel welcome and comfortable. It has to be original, reassuring and uplifting. Luxury hotels and budget options alike have to offer every single guest the comfort and security they are looking for. And to top it all, they've got to stand out from the crowd.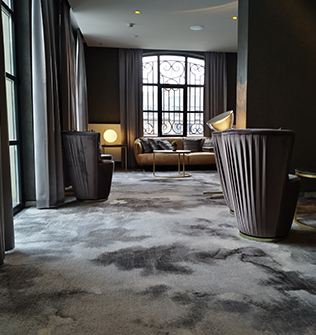 Giving each destination a unique flavour
Remember those bland, standardised hotel rooms, the same in Paris or in Tokyo? Those days are over! Nowadays, every interior tells the story of its location and its history. Each hotel room and restaurant is a backdrop for a memory in the making. To make its mark, every interior must special. Furnishings, textiles, wallpaper, accessories … everything in your interior has to work harmoniously together to become a coherent whole that conveys a message or a story.
Digital printing has made it possible to personalise any interior without the constraints of scale or quantity. In the nineteenth century, it took months of work to create a design with dyes, a luxury few could afford, but now digital printing and the development of different formats allow us to create decors beyond our wildest dreams, and all at an affordable price.
Want to match your carpet pattern to your wallpaper? Why not? Feel like co-ordinating the colours on your floor and ceiling? Go for it!
With Balsan's distinctive Unique Territoire collection, we've come up with a new way of creating printed custom carpets. This beautiful premium collection is crafted from structured pile and allows you to create exclusive designs for spaces from 400 m².
Thanks to our tried and tested expertise in colour, Balsan is able to offer a selection of unique colourways. Can't find the exact colour you're looking for? Create a custom colour.
And because our love for colour goes hand in hand with Balsan's commitment to quality, our colours are designed to last. The French Couture and Carré Couture collections are produced using solution-dyed yarn, making them perfect for hotels as they are easy to maintain and resistant to discolouration.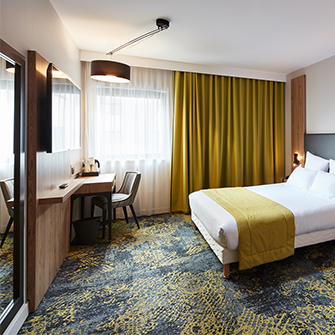 Creativity, comfort and practicality
Always pushing the boundaries of creativity, whilst keeping well-being and practicality centre stage, that's Balsan defining quality!
Not only are Balsan colours innovative and diverse but they can also serve a purpose.
To help people with visual impairments, for example, colours can be made stronger near staircases or obstacles.
It's also the case that the lighter the colour of the floor, the greater the amount of reflected light. Our broadloom carpets, carpet tiles and strips are available in a wide range of colours, which can be adapted to the lighting in an interior.
Balsan also offers carpets in different formats: mix and match them to create synergies between different spaces. Complementary carpets, carpet tiles and LVT mean you can bring harmony to your decor – hotel bedroom carpets, carpets for heavy traffic in the corridors and even your bathroom flooring can work together.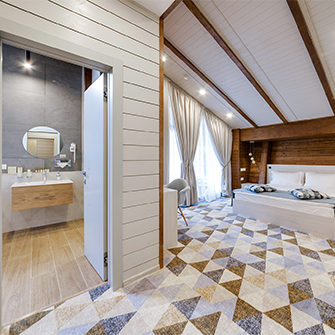 Balsan experience, Balsan professionalism – a commitment to quality and a selling point for your projects 
When it comes to carbon emissions, acoustic performance and origin, Balsan carpets offer transparency and performance.
For example, the Symbiance collection offers LVT flooring solutions with a total VOC rate at 28 days of less than 250 µg/m3. In addition, a protective layer makes it easy to clean modular LVT flooring, reducing the use of detergents, which are sources of Volatile Organic Compound emissions. This makes LVT perfect for interiors used by young children (playrooms, crèches, leisure centres, etc.).
What's more, our Clic, Rigid Clic Acoustic, Dry back and Loose Lay solutions have been tested against European and global standards to ensure lasting, healthy air quality.
Carpets are the most efficient flooring when it comes to tackling noise pollution, reducing impact noise by 25 to 34 dB.
We take CSR (Corporate Social Responsibility), seriously. All Balsan's broadloom carpets, carpet tiles and planks are developed and made in France at our two production sites. The "Made in France" label is a guarantee of quality and a sign of a company you can trust.
To help create beautiful interiors with a unique vibe, Balsan's Design Studio digital visualiser and the experts at the Balsan Design Team are on hand to help interior designers and architects bring their vision to life.
Creating flexible, liveable, welcoming, reassuring and attractive interiors… that's a lot for a sector in flux to deal with. But don't worry, Balsan is here to help you rise to the challenge.