VISION OF ELEGANCE Collection
Dandy A fresh take on herringbone
A distinctive reimagining of a truly timeless recurring motif.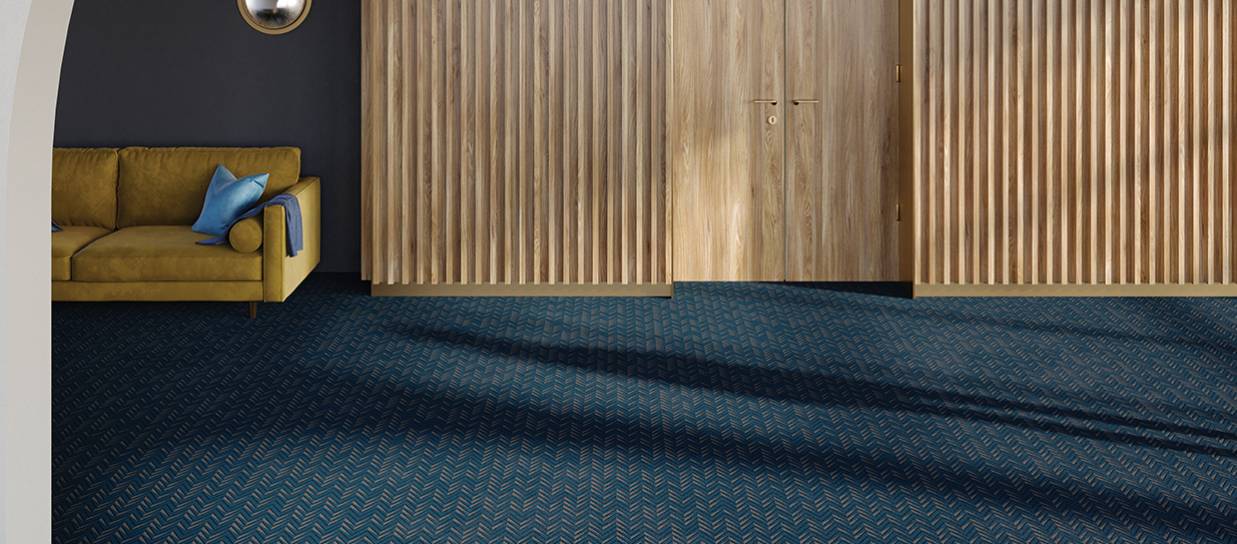 A distinctive reimagining of a truly timeless recurring motif.
Herringbone was not invented in the 21st century – it was used in Ancient Egypt! – but it can be reinvented. Following in the footsteps of architects from the Italian Renaissance and the Grand Siècle, the creators of 'bâton rompu' and Hungarian point flooring, and the designers of elegant herringbone fabrics, Balsan's stylists present the 'Dandy' motif. Echoing the spirit of this thousand-year-old pattern, they have enhanced it with colourful highlights to create a more dynamic style. Understated elegance and comfort are the keywords of this fresh and tasteful take on a truly classic design.
This herringbone pile carpet will give your hotel spaces a different character and quality of light, depending on which colour scheme you choose. From the natural simplicity of wood with 'Jasmin' and 'Havane' to the thinly veiled declaration of 'Amour' red, the Dandy thick pile carpet range is available in four very distinct tones. If you like, you can customise this broadloom carpet to create your own colour harmonies and variations on the Dandy pattern. Put your creativity to the test now using our Design Studio simulator and create your own signature decor!
As with all the designs in our Vision of Elegance collection, Dandy delivers Balsan's top quality for prestigious hotels: enhanced soundproofing, long-lasting solution-dyed colours and easy everyday maintenance.
Technical details
Features
Composition
100% regenerated solution dyed nylon ECONYL®
Structure
Moquette à velours Coupé – Technologie CYP Colortec+
Total weight (g/m²) - NF ISO 8543
2670 g/m²
Tightening - NF ISO 1763
46
Impact noise insulation
ΔLw 30 dB
Airborne noise absorption
αω 0.25
Antistatic velvet
2kV
Thermal resistance
< 0,15 m² C°/W
Design repeat : Width x Height (cm)
9 x 135




Customisation
From an idea to completion in a single step
Choose Balsan's personalisation option and carpet your space a thoroughly different way.

Collections
Because there is a story behind every product, Balsan invites you to explore the collections.