VISION OF ELEGANCE Collection
Pompadour A certain aristocratic feel
Classicism and modernity come together at the height of refinement.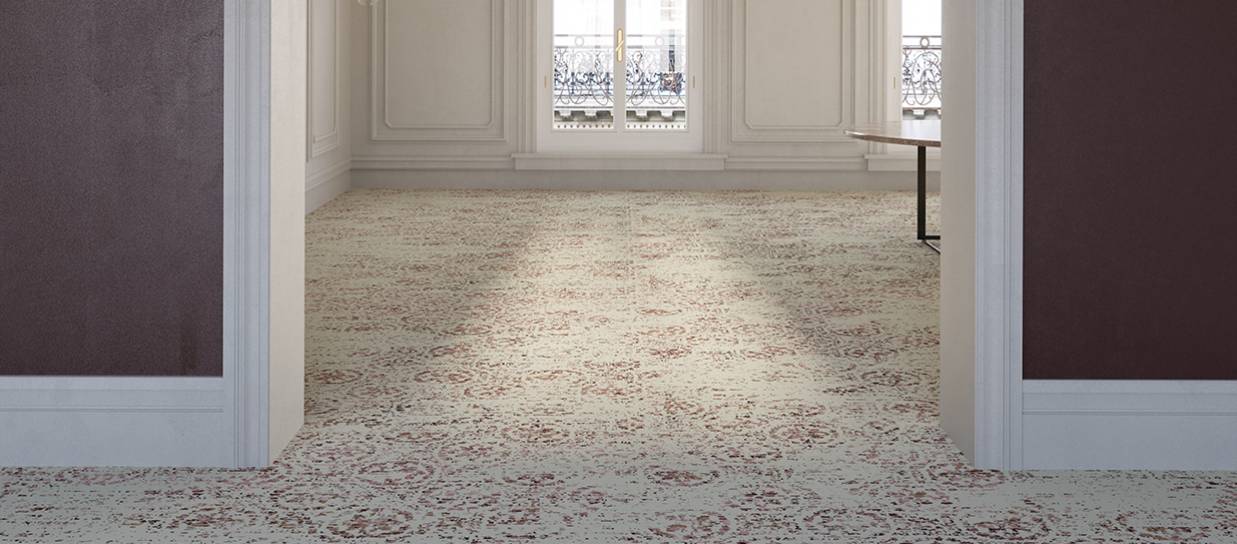 Classicism and modernity come together at the height of refinement.
Inspired by a Versailles tapestry from the time of Madame de Pompadour, the floral motif of the Pompadour pile carpet is given a twist using a blended effect that makes it almost abstract. This highly contemporary take nevertheless subliminally evokes the style of Louis XV's well-known favourite, who was passionate about art and interior design.
The aristocratic effect is enhanced by the two colours available for this thick neoclassic-patterned pile carpet: 'Candide', a delicately dusty pink on ecru, and 'Céladon', an exquisitely fresh shade named after a type of porcelain that was very popular in the 18th century. Both tones will adorn hotel rooms or suites with a delightful touch of French refinement. The customisation service gives you access to a wider range of colours, and you can create unprecedented variations on the Pompadour pattern to invent a broadloom carpet in your own style using our Design Studio graphic simulator.
As with all the products in our Vision of Elegance collection, this design delivers the high performance of Balsan carpets for prestigious hotels: enhanced soundproofing, outstanding long-lasting colour and easy everyday maintenance.
Full Colors: making it even easier to care for your hotel carpet!
Cleanliness is key to your hotel's image and essential for customer satisfaction.
Easy-to-clean carpets made from Full Colors solution-dyed polyamide:

the pigment is integrated right through to the fibre's core, meaning the carpet is more resistant to stains as well as sunlight;
if a mud, coffee or food stain requires a deep clean, our textile floorings withstand even the harshest cleaning products.
Comfortable, calm and delightful
Carpets instantly create that relaxed, snug atmosphere customers are looking for in a hotel.
In the lobby, a beautiful, comfortable and durable carpet sets the tone for the kind of wellbeing experience your guest will enjoy throughout their stay.
In the hotel's living area and bar, a carpet means that customers can make a quiet entrance, without causing others to stop and stare.
In bedrooms, an extra thick carpet is perfect for encouraging customers to kick off their shoes and make themselves at home. It is, without doubt, the best floor covering for a relaxing room.
Make your hotel stand out from the crowd!
Customise your carpet (broadloom or tiles) with just a few clicks using Balsan's Design Studio customisation app:

customise your pattern using the Balsan studio library;
choose colours to complement your hotel's décor;
choose your texture type, and you're done!

Get in touch with the Design Studio or call Balsan's technical support team for help creating your own design!
Technical details
Features
Composition
100% regenerated solution dyed nylon ECONYL®
Structure
Moquette à velours Coupé – Technologie CYP Colortec+
Total weight (g/m²) - NF ISO 8543
2670 g/m²
Tightening - NF ISO 1763
46
Impact noise insulation
ΔLw 30 dB
Airborne noise absorption
αω 0.25
Antistatic velvet
2kV
Thermal resistance
< 0,15 m² C°/W
Design repeat : Width x Height (cm)
396 x 220




Customisation
From an idea to completion in a single step
Choose Balsan's personalisation option and carpet your space a thoroughly different way.

Collections
Because there is a story behind every product, Balsan invites you to explore the collections.