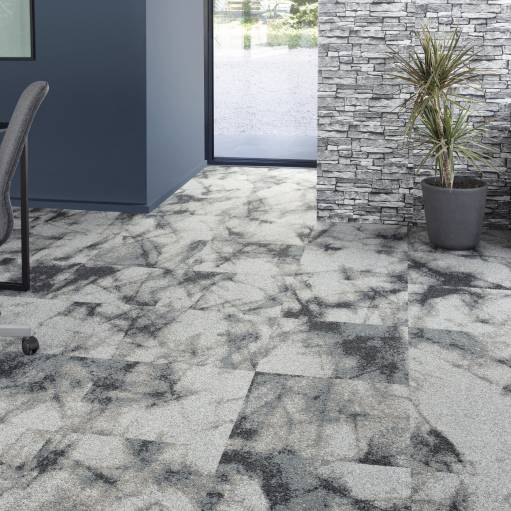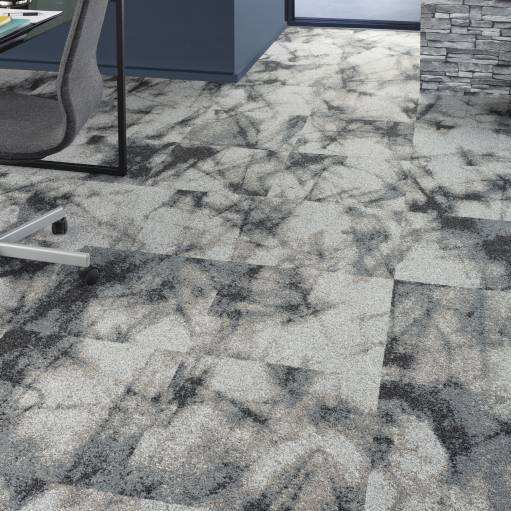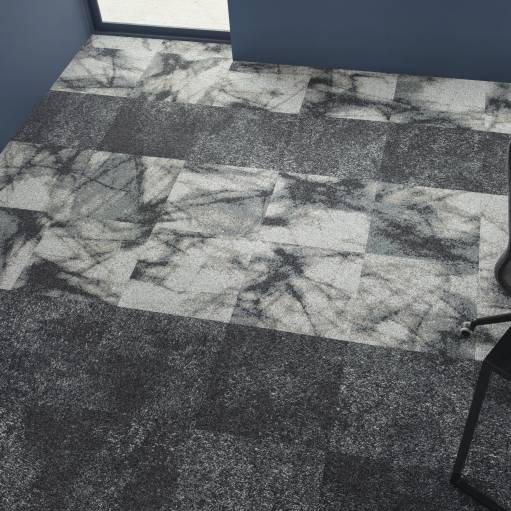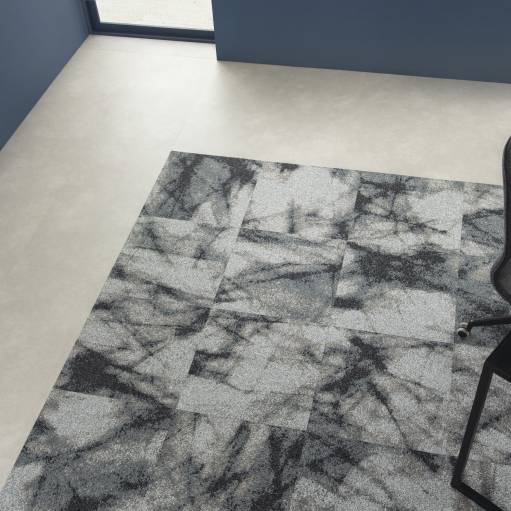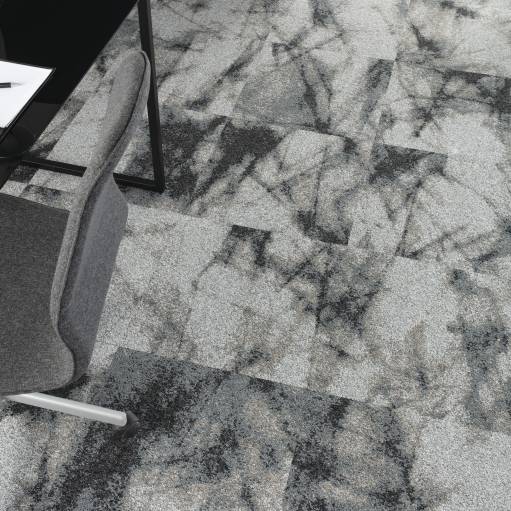 Endless shades of grey
A crystalline rock made of mineral salts, the distinctive thing about gypsum is that it is formed by evaporation and sedimentation. The work of nature creates a translucent white stone, through which you can see the foreign bodies trapped there over millennia.
Carpet tiles in the Gypse Sonic Confort design manage to reproduce this luminous crystalline effect, shot through with veins in infinite shades of grey. Devoid of geometry, harmony is created by pure chance. The feeling of stability of the mineral is combined with the instinctive elegance of nature as artist. But above all else, this vaporous ambiance of grey tones and multidirectional motifs creates a pleasant feeling of lightness, freedom and serenity.
With a comfortable pile of 850 g/m 2, carpet tiles in the Gypse Sonic Confort design measuring 50 x 50 cm can be fitted completely randomly. They go really well with other patterned carpets in the Wild Nature collection, for creating a mineral path in a plant environment, for example (Mangrove Sonic Confort, Eden HD Sonic Confort). You can also put them with unpatterned carpets (Pilote², Nexus etc.) and LVT floor coverings (Symbiance).
The Gypse design is available with Sonic Confort acoustic backing as a special order.




Customise laying
2. Drag the tiles into the configuration tool
Fill
fill all with selected colour
Technical details
Features
Composition
100% regenerated solution dyed nylon ECONYL®
Structure
Textured loop pile carpet tile - MBrodery Technology
Total weight (g/m²) - NF ISO 8543
5230 g/m²
Tightening - NF ISO 1763
32
Impact noise insulation
ΔLw 32 dB
Airborne noise absorption
αω 0.30
Antistatic velvet
2kV
Thermal resistance
< 0,17 m² C°/W




Customisation
From an idea to completion in a single step
Choose Balsan's personalisation option and carpet your space a thoroughly different way.

Collections
Because there is a story behind every product, Balsan invites you to explore the collections.